COVID-19
As a small family owned business, we have kept our business open and operating.
The coming weeks and months will be more challenging but we remain committed to delivering the best service possible.
The sentiment in the community right now is simple – buy local.
All our frames are custom made by us, in our factory, right here in Australia.
Most Popular University Frame Designs – CLICK HERE
Our Certificate Frames will preserve and protect your University Degree.
We use Premium Quality Timber, The Best Acid Free Materials and Professional Framing Glass.
Our Price is always significantly better than the University supplier or your local custom framing store.
FREE DELIVERY to your Home or Office.
---
It's your Design – Choose from 19 Frame Finishes and 16 Matt Colours
The frame you design is made specifically to fit your Certificate or University Testamur.
Professionally display your Certificate, Uni Degree or Business Credentials.
FREE DELIVERY to your Home or Office.
---
Save Time and Money! Order Now from our Frame Shop in 3 steps!
Our price includes FREE DELIVERY to your home or office.
---
Shop for your Certificate Frame Online with Confidence.
Not All Frames Are The Same
Custom Made By Certificate Framing
High Quality Frame – Made in Australia
Frame – Premium Italian Hardwood Timber
Mat Board – Superior Acid-Free Mats by Peterboro
Glass Front – We Use Tru Vue® Premium Clear Glass
Imported Cheap $59Frames
Poor Quality Frame – Made in China
Frame – Cheap Synthetic Plastic Material
Mat Board – Replaced with Coloured Cardboard
Perspex Front – Cheap Perspex Will Fade and Scratch!
All our Certificate Frames come with a Money Back Guarantee.
If your not 100% happy for any reason we refund your money.
That's our confidence in Frame Quality, Service and Price.
Frame your University Degree

Certificate Frames for your Graduation

University Degree Certificate Frames
Our price is always much better than the University supplier.
Save $$$$$ with FREE Delivery to your Home or Office.
Degree Framing for your University Graduation
Make your University Graduation More Enjoyable and Less Expensive.
Get a High Quality Australian Made Certificate Frame at a better price.
Our Graduation Frames make the Perfect Gift
Graduating and receiving a University degree is an exciting and proud moment.
Buy a Graduation Certificate Frame that will protect and showcase their University Degree for a lifetime.
All our Certificate Frames are custom made to order.
High Quality Certificate Frames Made in Australia.

How we make our Certificate Frames information video.
Certificate Framing is a 5 STAR Rated Business
It's all about our Certificate Frame Quality, Personal Service and Price.
Check out what others say about buying one of our Certificate Frames.
---
Graduating and receiving your University Degree is the perfect time to invest in a premium quality Certificate Frame to protect and show off your University Testamur (Certificate).
As a premium custom framing business we have sourced the highest quality materials from around the world. We use only the best brands from the US and Italy to bring you a range of certificate frames, with outstanding quality and at the best possible prices.
Degree Framing
Quite often University's have certificate frames available for sale on your graduation day. Unfortunately, this degree framing service provide certificate frames that are produced in bulk and over priced on the day.
Our degree framing service lets you choose your individual design features. Get your individually handmade university frame custom made and delivered right to your home or office.
Graduation Frames
Buy a certificate frame that will protect your University Graduation Certificate from mould, discolouration, brittleness and cracking. All our graduation frames are made with Acid-free Double Mat Protection.
Quality document protection requires the use of acid-free materials. This is the most important feature of our Graduation Frames. The materials we use will not become acidic over time and cause permanent damage to your University Graduation Certificate.
Degree Frames
Just recently graduated and looking for a high quality university degree frame? Our Degree Frames are designed with a combination of frame styles, matboard colours and timber frame finishes to compliment your University Degree.
Designed to protect and enhance the esteem of your University Degree, our degree frames are handmade in Australia. The premium quality Timber and Acid-free Materials we use will help preserve your University Degree for a lifetime.
University Graduation Photo Frames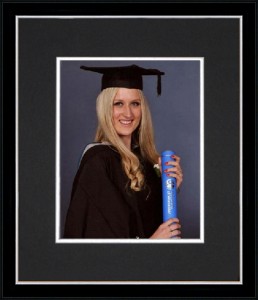 You can also add a matching University Graduation Photo Frame to your order.
Your photo frame will have the same frame finish and matboard colours of your graduation certificate frame.
---
Contact us – Click Here


We're easy to work with and offer great advice.
We will help you custom design a High Quality Australian Made Certificate Frame.
Your frame is individually handmade specifically to fit the size of your Certificate or Document.
University Degree Frames: Get the very best service, product quality and Price.
Price includes PRESTIGIOUS DOUBLE MATS and FREE SHIPPING.

(See FAQ's)

Our Degree Frames are custom made using the best timber and acid free materials.
Every University Frame is Made in Australia so your order is supplied very quickly.
Enjoy your Graduation Day order a frame to be delivered to your home or office.