Product Description
Graduation Photo Frames $69 –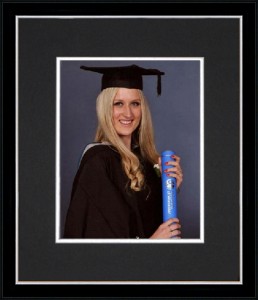 Pay Only $60 if you add a Matching Photo Frame to your order.
This photo frame takes a 10'x 8′ (250 x 200 mm) print and compliments the certificate frame you have ordered perfectly.
The frame will be made with the same frame finish and matboard colours you have chosen to showcase your University Degree.
Personalised Plaque The perfect touch to enhance the prestige of your Handmade Certificate Frame.
We will send you an email to get the personal details to be engraved on your plaque. (Email sent after you pay and checkout)
---
Certificate Framing is a Premium Online Framing Business.
All our Certificate Frames are Custom Made to order.
If you need a different size, colour or something special added we will make it.
Please Call 04 3851 1218 For Assistance.
Contact us by email
We're easy to work with and offer great advice.
---
Our 100% SATISFACTION GUARANTEE
100% CASH REFUND No questions asked Policy.
That's our confidence in Quality, Service and Price.
We Only Sell High Quality Australian Made Certificate Frames.
Our Frames are handmade to fit the exact size your Graduation Certificate.
We Use Professional Framing Glass – More scratch resistant than cheap perspex.
Price includes PRESTIGIOUS DOUBLE MATS and FREE SHIPPING. (See FAQ's)
Federation University Australia Certificate Frame
Modern Frame Profile is 30mm wide.
Traditional Frame Profile is 33mm wide.
Outside Frame Dimensions: 370 x 460 mm
The Frame: The timber we use is universally recognised in the industry as having two highly desirable characteristics, hardness and straight grain. This makes your certificate frame more resistant to chipping and cracking. This often occurs in inferior cheaper products.
Prestigious Double Mat: Our frames include Double Mats(No Extra Cost). Double Mats do enhance the prestige of your frame, however most importantly it adds further protection from damaging pollutants and contaminants between your degree and the glass.
Made In Australia: Each frame is custom designed and handmade in Australia so we maintain our stringent standards in product quality. A Certificate Framing craftsman inspects your frame with great attention to detail at every stage of our handmade process
Acid Free Materials: We guarantee all materials touching your Certificate are acid free. The materials we use will not become acidic over time and cause permanent damage. This is the only way to go to protect your Federation University Australia (Testamur) Graduation Certificate.
We Guarantee 100% Satisfaction on Quality, Service and Price: As a premium custom framing business, when we hand make a certificate frame for you we use only the highest quality materials available. The premium quality Timber and Acid-free Materials we use will help preserve your Federation University Australia Degree for a lifetime.